Description
SudaTonic Far Infrared Body Shaping System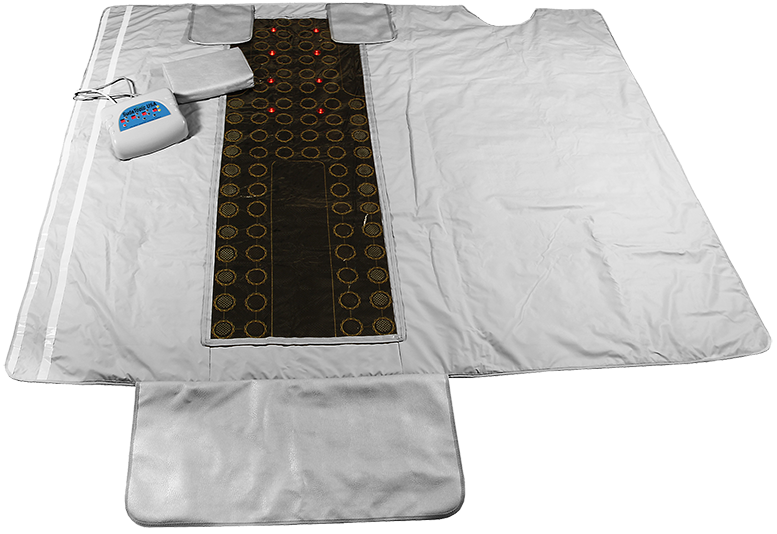 Advanced Technology
The SudaTonic™ Far Infrared  Body Shaping System is based on sound scientific principals in using Infrared heat to increase metabolism. The client slips into the blanket, and relaxes between 5 and 60 minutes while the system's infrared heat penetrates the skin and breaks down stored fat and metabolic waste, burns calories, flushes toxins out of the body and skin, reduces the appearance of cellulite, relieves stress, pain and sore muscles! We provide a one year warranty on blanket and controller.
SudaTonic™ is:
Low cost, high profit potential & high client retention
Not complicated; no shower or wet room needed
Easy to clean and maintain
Completely portable
Convenient to stow
SudaTonic™ Infrared System Benefits:
Far infrared heat penetrates deep into tissue and muscles
Helps to relieve pain
Helps to reduce inflammation
Assists in weight loss (a possible 1200 calories burned per session)
Reduces fat and cellulite
Improves autoimmune system
Improves circulation and vitality
Boosts metabolism
Improves skin tone, elasticity
Relaxes body and mind
Promotes higher oxygen to the brain
Helps to block free radicals
SudaTonic™ Infrared System Details:
3 Independent heating zones
8 visible therapeutic red lights
48 natural jade and tourmaline stones
Carbon fibers deliver the system's far infrared radiant heat
Temp range from 25C to 75C  (77F to 167F)
Runs on a powerful 600 watts
Non flammable
Slightly textured material cleans easily
Beautiful silver-gray color compliments almost any decor
Strong waterproof material
Wide velcro closure
Blanket Opened: 77 inches long 80 inches wide
Blanket Closed: 35 inches wide or 180cm x 200 cm
Blanket Weight: 23lb
SudaTonic™ System Controller:
Displays actual temperature of blanket's interior
Easily adjust temperature controls during a session
We hope you will enjoy and reap the benefits of owning our SudaTonic™ Far Infrared Body Shaping System. In 2005 our founder Sofia Higgins, developed the first and original infrared blanket system, The SudaTonic™ Infrared System, which has become well known, respected and copied around the world.