The Sudatonic™ Story
About Us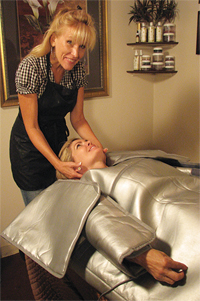 In the late 1990's, French Doctor Yves Loones of La Rose Blanche™, Paris, a company well known for their body and skin care products, developed a cream and sudation body wrap system he named "Sudatonic".
The Sudatonic™ System became an instant success when introduced to American beauty professionals at the 2002 International Esthetic and Spa conference in Las Vegas. The increasing demand in America for products addressing beauty and health and wellness issues led to the formation of LRB-USA in 2003 by founder Sofia Higgins. LRB-USA became the exclusive provider and distributor of products under the Sudatonic™ USA trademark and soon became well known in spas, medical offices, salons, wellness centers, chiropractic offices, tanning salons and fitness centers.
In 2004 Far-infrared Technology was added to the Sudatonic™ System in the form of a 4-zone Far Infrared Blanket designed, created and manufactured by Sofia Higgins. This Far-infared invention significantly increased the effectiveness of the original Dr. Loones creams.
After years of industry trade shows, conducting SudaTonic Conventions, workshops, and personalized client meetings, we determined it was time to contract with United States chemists in order to formulate a USP certified set of creams. Following months of rigorous testing, a set of four signature creams, trademarked SudaTone™, was introduced for use with our SudaTonic™ Far-infrared System. Our signature creams are formulated with pure, natural pharmacological ingredients, earning Pharmacopeia's highest award, the Gold Pharmacopeia Seal for purity. In addition to our SudaTone™ cream set, we also offer a set of self applied sudation creams formulated for use in the tanning industry.
Our products are based in science, and provide natural solutions to health and beauty issues, focusing on the root causes of poor skin, excess weight, cellulite, and stretch marks. Poor lymphatic and veinous circulation is most often at the heart of all of these conditions, and improving them leads to an improved external look and overall better health. Our products increase metabolism, nutrient flow, blood flow, decongest blocked passageways and genuinely improve the user's health.
After many years in this industry, we still truly love what we do and are proud of our products. It's important to us that we can provide business owners and their clients with a system that is affordable, uncomplicated, convenient to store and easy to market.
We are absolutely certain that becoming a Sudatonic™ Far-infrared System enthusist will energize you and your business! Interactive training and marketing kits provide a foundation for having happy, healthy, energized clients who can't wait to come back with their family and friends for another Sudatonic™ session!
SudaTalk, our quarterly newsletter featuring articles on business, nutrition, beauty, and events!